Welcome to PGS London Electricians
If you are looking for a local electrician then look no further than PGS Electricians. We have an electrician available for you and ready to carry out all types of electrical work.
London electricians
Available today - 0203 674 1686
Call now for prices & bookings

All our electricians are fully qualified, registered and experienced in all types of electrical work.
Why use PGS Electricians?
Our electricians are locally based, fully qualified and all our work comes with the usual guarantee. When you contact our office you will receive the trademark PGS customer support and throughout the process our aim is for you to be impressed and delighted by the quality of our service.
Friendly office based team always available
Experienced & highly qualified electricians
Friendly office team always available
Multi trade support with electricians and handymen available
Established firm, excellent track record
Rapid response to electrical emergencies
All work carries our standard guarantee
Comprehensive range of electrical services provided, click here for a full list.
About PGS Electricians
PGS Electricians provide a complete solution to all your electrical requirements. Our London electricians are experienced and highly qualified, we have a clear transparent charging structure and all our work is guaranteed.
Guaranteed electrical work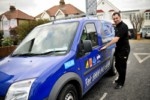 All of the work completed by PGS Electricians has a full guarantee. Accurate notes are filled in on each electrician's job summary sheet for every job, explaining the charges and acts as a guaratee. We are just a phone call away and we're always happy to hear from customers.
Quick response emergency call out
If you experience an emergency or are simply looking for a rapid response then look no further than PGS. Our knowledgeable, friendly engineers are standing by to respond to your call and our telephone lines are staffed 24 hours a day.
Our prices for electricians
For general maintenance jobs our charges are based on our half hourly charging system with prices starting from just £42.50 (+ VAT). Our charges are completely transparent, and we will inform you of the fees in advance of undertaking any work. For rewiring and other large scale jobs fixed price quotations are available from our electricians.
Other services
As well as offering electricians, we can also supply engineers from other trades. These trades include plumbers and pest control technicians. We pride ourselves on offering the best tradespeople for every trade, so don't hesitate to call in for more details.
Call 0203 674 1686 today to find out how we can help with all your electrical requirements.
Latest PGS Blog Articles
You can read more PGS Blog articles by clicking here.
The PGS Blog offers news about our London Engineers, company updates, energy saving tips and safety advice.
Call now for
free advice & quotes
0203 674 1686
Request a
call back
Enter your details below
and we will call you back.
Book Online


Enter your

postcode


for availabilty and bookings

Want to
SAVE
money?
Talk to us
about energy
efficiency in
your home!
We accept all major credit cards
Access denied for user 'anemoi5_Comus'@'localhost' to database 'anemoi5_pgs'
Couldn't select the database on page: index.php - Please copy this entire message to Dom, thanks.